Mentors: Helping People and Companies Succeed | Live Chat May 31st
Published May 26, 2017
---
Join our next #MHECareers chat at 12-1pm EST for a live Q&A on making the most of professional mentoring.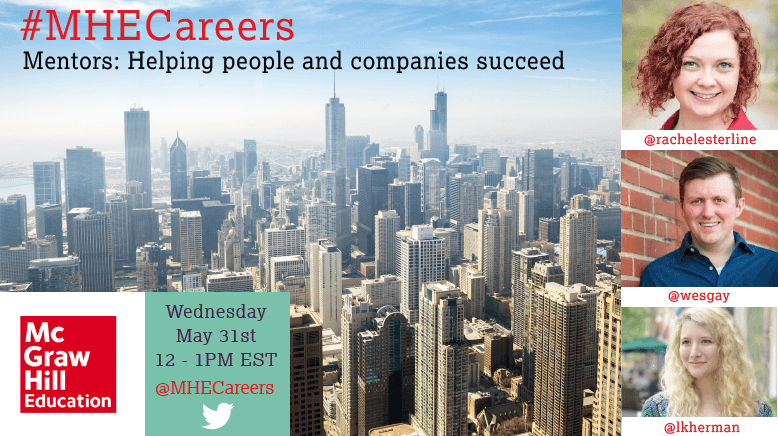 With millions of new college graduates about to enter the job market, now is the perfect time to think about your organization's mentoring program.
Mentoring programs connect employees at different experience levels and career paths to share knowledge and professional insights. A successful mentoring partnership can be beneficial at the professional and personal level for everyone involved.
We've invited a panel of career and professional development experts to join our next live #MHECareers Twitter chat to take a close look at all sides of the mentoring equation. Our May 31st chat guests are Rachel Esterline Perkins (@rachelesterline) of Central Michigan University, Forbes contributor Wes Gay (@wesgay), and Lily (@lkherman) Herman, a contributor to Teen Vogue, Glamour, and other lifestyle and fashion publications.
Follow the conversation or join-in yourself by using the hashtag #mhecareers from 12-1:00pm EST on Wednesday, May 31, 2017. Follow our talent team @mhecareers for live questions and updates.
Here are the questions our panel will discuss during Mentors: Helping People and Companies Succeed:
Q1: What is your definition of mentorship?
Q2: Why is having a mentor important to personal and professional development?
Q3: What are the steps in choosing a mentor?
Q4: How can you know if you have the right mentor?
Q5: How can you know if your mentor is giving you bad advice?
Q6: What are some good ways to introduce employees to their mentors?
Q7: How can mentorship programs help companies grow and succeed?
Q8: What are the benefits of BEING a mentor?
Go to www.mheducation.com/careers to learn more about working at the world's foremost learning science company, and catch up on highlights from our past #mhecareers chats and other events by visiting us on Storify.